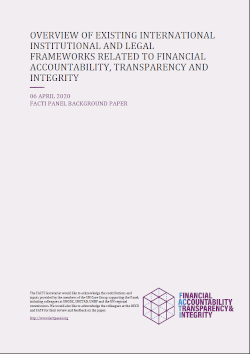 The first FACTI Panel background paper is now available.
Developed by the Secretariat to provide an initial review of some challenges and trends related to financial accountability, transparency and integrity, the paper reviews existing international institutional and legal frameworks, as per the Panel's terms of reference.
The paper builds on inputs from the UN System agencies, material already provided by UN and non-UN bodies to the Inter-agency Task Force on Financing for Development. It also attempts to build on past analytical and policy work, such as the AU-ECA Report of the High Level Panel on Illicit Financial Flows from Africa.
It provides an issue-based overview based on the six areas suggested by the President of the General Assembly and the President of ECOSOC in the terms of reference of the Panel: financial and beneficial ownership transparency, tax matters, bribery and corruption, money-laundering, confiscation and disposal of the proceeds of crime and the recovery and return of stolen assets. For each area, there is a short introduction and some of the existing proposals for strengthening work in these areas.
The paper also introduces cross-cutting analysis with respect to common themes across 11 different issues, and proposes areas for further investigation by the Panel.
The Panel now welcomes reactions to the background paper, as well as your ideas for priority topics to be addressed, at upcoming virtual meetings, which will be announced shortly.
Overview of Existing International Institutional and Legal Frameworks Related to Financial Accountability, Transparency and Integrity
‍
‍